Sunday & Monday Special
- $1 PER LAP
This special offer to experience the ultimate in indoor Go karting. Come down and book your 40 or 50 lap race.

Sunday & Monday Special – $1 per lap
To receive this special discount you must be a member of Auscarts Racing.
Memberships: $5 daily membership /OR/ $10 VIP yearly membership
Maximum time allowed for 40 Laps is 25 Minutes.
Maximum time allowed for 50 Laps is 30 Minutes.
Maximum times are calculated on an average lap time of 30 seconds, plus 5 Minutes of stoppage time.
Most drivers will complete more than their purchased amount of laps in the time allowed.
All patrons need to be a minimum age of 13 years old to participate and 143cm tall.
Attire for drivers should consist of comfortable clothing and closed toe shoes.
Drivers will be breathalyzed before racing and are required to be 0.00 BAC to race.
_______________
Bookings are essential.
Please contact [email protected] or call our team on 9646 6015
SCHOOL HOLIDAY SPECIAL
Auscarts Indoor Racing school holiday $1 per Lap special ! T'S AND C'S APPLY.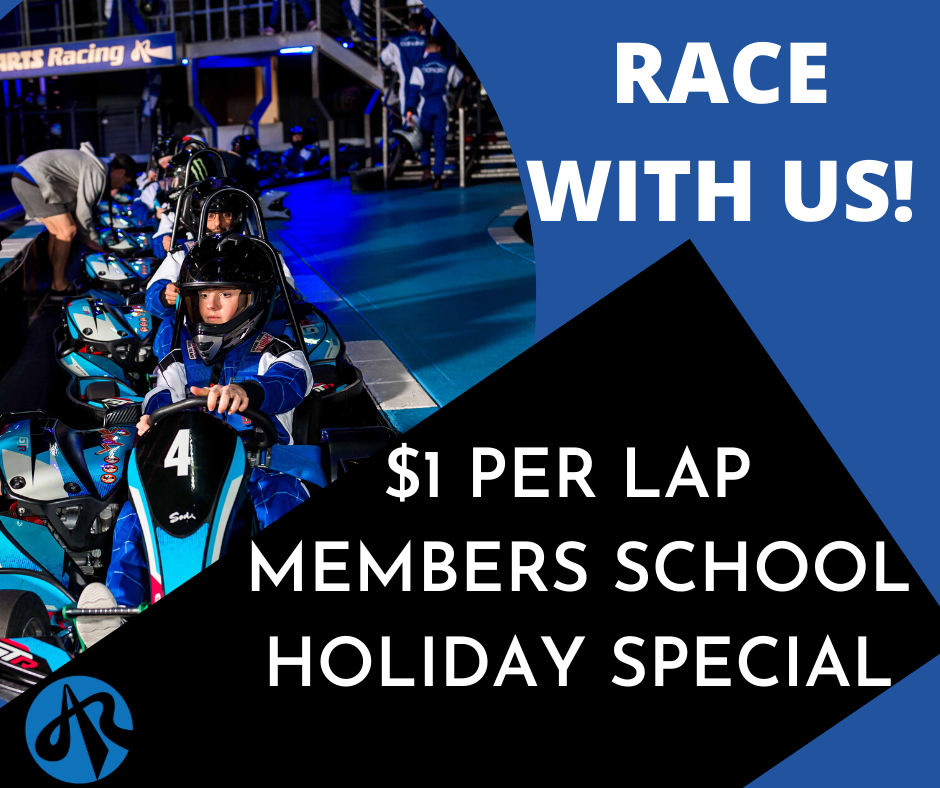 ARE YOU OVER 13 ? 
AUSCARTS RACING FAMOUS $1 LAP MEMBERS SCHOOL HOLIDAY SPECIAL IS BACK AGAIN!
Are you over the age of 13 and want to find something fun to do with your friends on the holidays? Are you a parent in need of something for the kids to keep busy during the holidays so you can sit back and relax?
Look no further because we have got you sorted these holidays!
Our $1 lap members special will be running from Wednesday 24th June to Monday 13th July 2020 with a minimum of 20 minutes (30 Laps).
Day memberships can be purchased for $5 or our VIP yearly membership can be purchased for $10.
20 Minutes - $30pp
25 Minutes - $40pp
30 Minutes - $50pp
Bookings are essential so don't forget to get in quick and ride in style with Auscarts! For any enquires or bookings, please don't hesitate to contact our staff on 9646 6015 or email [email protected]
Please keep in mind that all racers must be 13 or over, wear enclosed shoes and comfortable clothes. All drivers under the age of 18 must be accompanied by someone over the age of 18.